ABOUT THE DESIGNER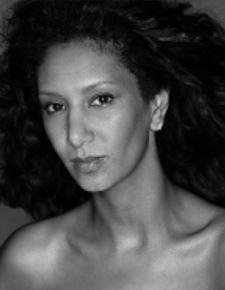 Gelila Assefa Puck is an internationally known designer of fine couture gowns and couture handbags, and an award-winning international philanthropist who was born and schooled in Addis Ababa, Ethiopia. Her life story and business success has been featured on CNN and in other major publications. She is now based in Southern California where she lives with her husband, super chef Wolfgang Puck, and their two young sons.

Gelila's couture fashion brand, Gelila Style, is rooted in her East African heritage. As a young child, she displayed an early and great passion for fashion – first evidenced, perhaps, by the Catholic school reprimands she received for embroidering her grade school uniforms. With determination to succeed after completing high school, she came to the United States to study business and fashion – and then worked her way through the tough Los Angeles Trade-Technical College which supplies L.A.'s very demanding garment industry. Early on during her training, she was introduced by an experienced draping instructor to the sophisticated techniques evident in the donated gowns of high couture designer James Galanos.

With her own refined eye for international couture and a uniquely sophisticated design talent, Gelila stood out immediately in class and landed an internship working alongside the legendary Galanos whose clothes were then worn by some of the most influential women in the United States and Hollywood. Later setting out on her own with a small West Hollywood boutique, Gelila had early success with hand-sewn and boldly colored gowns and bustiers, both sophisticated and edgy but always reflecting with hand-woven silk the geometric patterns of Africa.

In the years to follow, her designs have become a must with the Beverly Hills fashion elite. Her couture collection today reflects the sophistication and attention to detail that has been the signature of this extraordinary designer for over a decade. Gelila is now focused on her own remarkable couture handbag line, which includes simple, classic clutches and bags made from crocodile, ostrich and African springbok.

Says Gelila: "My couture handbags are my principal design focus now. I treat each design as a work of art and get enormous creative satisfaction as each idea comes together. But I can work out of my studio at home and still have time for my principal focus which is my family – my children – who are nearby at all times."

Gelila also remains active in broader social causes, supporting women's global health initiatives and the advancement of orphaned children in Africa. Gelila's still-fervent commitment to her East African heritage and to the communities of her Ethiopian homeland was the subject of a recent and admiring major feature viewed by millions worldwide on CNN International.

More than a decade ago, Gelila joined the board of Ethiopian Children's Fund (ECF) when there were only 21 children in the program. Today this pioneering set of children's boarding schools serves more than 400 orphaned and disadvantaged children in rural Aleltu, Ethiopia.

The Gelila Assefa Puck Skill Training Center is the newest addition to the celebrated ECF children's village in Aleltu, announced in October 2009. A computer skills training lab will be the first phase of this new vocational complex. The Orphaned Starfish Foundation (OSF) will be partners in an effort to provide hardware, software and materials for the new lab. ECF plans to offer other vocational skills as the Center expands.

Closer to home, Gelila and her husband, Wolfgang Puck, support numerous charities, and were honored in March of 2009 by the Children's Institute in Southern California with the prestigious Champion of Children Award.